The Town of Eureka is in final design stages of the wastewater phase 1B project which will include the expansion of the Town's wastewater services to residents and businesses within the area known as Midvale as well as businesses that reside between Oslaski Road and US Highway 93.
On August 13th, 2018 the Town announced that they have confirmed the funding for this $1.833 Million project.
The Town is in the process of also developing a series of direct assistance programs to residents/landowners in the project area to aide in the abandonment of septic tanks as well as to make the physical connection to the wastewater water main line.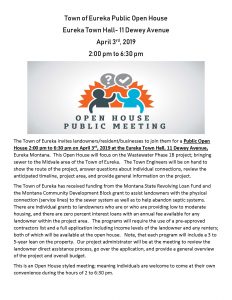 More Information Coming Soon