Updated August 24th, 2018
Riverside Park- Conceptual for Improvements:  Please Visit the Eureka Area Chamber of Commerce at the Fair: 
The Town of Eureka, in partnership with members of the Boy Scouts, Sunburst Foundation, and Eureka Area Chamber of Commerce are working on an improvement project in Riverside Park.
Here is our first rendering of the conceptual design for the Riverside Park Improvement Project.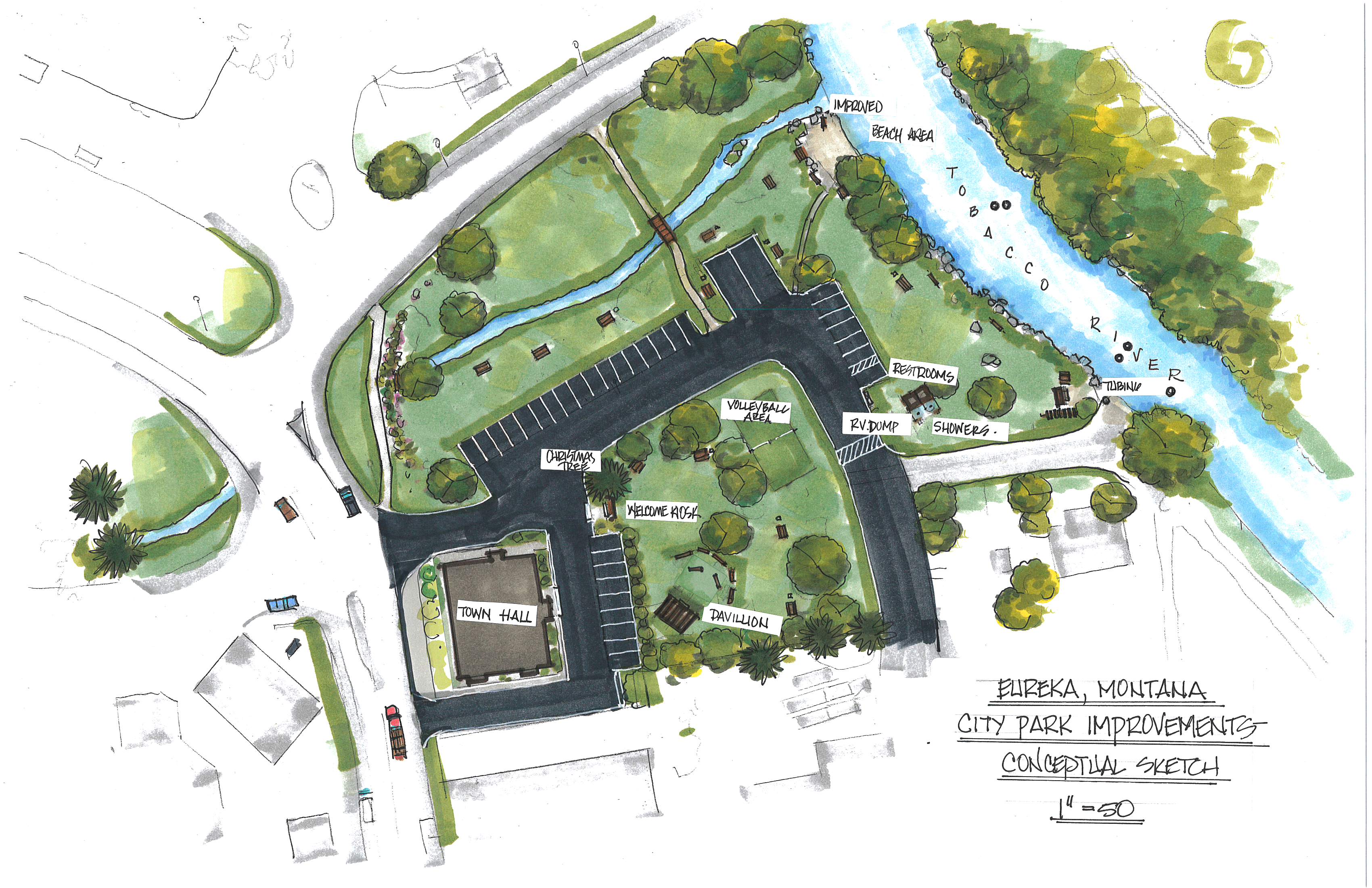 Please take a few moments to share with us your thoughts/opinions on this conceptual design.  Do you think it would benefit the Town and Community?  Do you like or dislike the suggested improvements? Do you have other suggests for improvements?
The Chamber of Commerce will be applying for a Montana Dept. of Commerce Tourism Grant with the Town of Eureka.   This grant application will be matched with funds raised through Sunburst Foundation, and fundraising efforts by Alan Hepner as part of his Eagle Scout Project to build a Stage/Pavilion in the Park.   Your comments will be used as part of this application as well as shared with the Eureka Town Council to make any changes prior to final design.
It is the goal of the Town to complete this project utilizing funding as discussed above as well as funds through the Tax Increment Financing District and Park annual budget.  No increases to taxes or mill levy will be asked of the public.
Please Visit the Eureka Chamber of Commerce at the Eureka Fair the 24th through 26th of August.    You can leave your comments at the Eureka Chamber Booth there or you can utilize the following means to share your ideas and thoughts.  Please return by September 10th, 2018.
Mail to:
Eureka Area Chamber of Commerce
Attn:  Riverside Park Project
PO Box 186
Eureka, MT 59917
Email to:  eurekachamber01@gmail.com
Hand Deliver:  Eureka Chamber of Commerce; Visitor Information Center 11 Dewey Avenue, Eureka, MT 59917
Thank you for your time and your comments.
Press Release-  An Update on Midvale Wastewater Connection-Phase 1B Project: 
August 13th, 2018
Town of Eureka Montana
PO Box 313
Eureka, MT 59917
406-297-2123
PRESS RELEASE
For Immediate Release
Eureka, Montana– The Town of Eureka, Montana has recently confirmed the receipt of $1,350,000 in grant funds for the upcoming Wastewater Phase 1B project.  This project will be matched with a loan of $483,000 for a total project cost of $1,833,000.00.   The project will complete previous efforts to extend the wastewater collection northward into unserved residential areas, rehabilitation of existing collection piping in Town, and replacement of the primary wastewater pumping station.   The Phase 1B project will continue the work from the 2015 project and will provide wastewater services to the former Midvale area, install a backup generator at the primary pumping station, replace lagoon transfer pumps, and improve the ability of the Town to utilize their portable generator at various pump stations.  This project will also address upgrades to the headworks at the wastewater treatment facility.
Funding partners for this project include Montana Treasure State Endowment Program Grant ($555,000), Montana Community Development Block Grant ($450,000), US Corp of Engineers Grant ($180,000), Montana State Revolving Loan Forgiveness Fund ($163,000) and Montana State Revolving Loan Fund ($483,000).   The Town appreciates the continued support and dedication of our funding partners that are making this project a reality.
Within the funding package is $205,000 for direct assistance to residents that are within low to moderate income brackets.   The Town will be releasing this program late fall early winter of 2018 and it will provide up to $3,500 per resident that meets the requirements for individual construction costs of connection to the sewer system; while replacing their aging septic tank.
The Town is also working in partnership with Montana Department of Natural Resources to obtain a $50,000 grant that will be loaned out to residents that are not eligible for the direct assistance program.  This will be a 0 to 1% interest loan to residents and as residents pay back their loan, it will set up a revolving loan fund for any resident within the Tobacco Valley to replace their aging septic tank.   More information on this program will become available in the Fall of 2018 if the Town is successful with the grant application.
In addition to all of this, the Town through their membership with the Montana League of Cities and Towns is also exploring the option of an insurance program for homeowners/residents to place on their water and wastewater lines.   As more information becomes available, the Town will conduct outreach to their residents and looks forward to providing another service to the community.
Overall, the construction of the Wastewater Phase 1B project will begin in early Spring of 2019 and is expected to last throughout the Summer months.   All effort to minimize impacts to residents and businesses will be taken, and continued outreach as construction becomes more imminent.
For more information please reach out to our Project Administrator Tracy McIntyre with Rural Economic Designs, LLC at ruraleconomicdesigns@gmail.com and 406.291.1416.
Midvale Water District- Purchase by the Town of Eureka:  Public Meeting August 28th, 2018
The Town of Eureka, Montana has confirmed the receipt of a $380,000 bond (loan) with the Montana State Revolving Loan program to finalize the purchase of the Midvale Water District.   In 2012, the Town of Eureka worked closely with Midvale Water District Board to sell bulk treated water to the residents that are currently on the Midvale Water District system.   During the 2012 water expansion project, the Town and Midvale Water District Board came to an agreement that when funding was available the Town would purchase the system for the value of the outstanding loans.   The one condition would be that all Town residents would have the same water user rates which will be accomplished when this bond is finalized and closed on September 19th, 2018.
The Town of Eureka is hosting a public meeting on August 28th, 2018 at 5:30 pm to discuss this bond process and to also share with the community the new rate structure for all Eureka residents.    Those in the Midvale District will see a slight decrease in their average rate (currently average user in Midvale is paying $60.91+).  Those currently on the Eureka system, outside of the Midvale area, will see a slight increase of .55 Cents to their base rate.  With an average, based on connection size, as follows:
Connection Size                     Current Base Rate                  Proposed Base Rate
¾"                                                   $25.90                                     $26.45
1"                                                     $46.10                                     $47.08
1 ½"                                               $58.28                                     $59.51
2"                                                   $184.41                                   $188.85
Special Residential 1"             $26.90                                     $27.45
Spec. Jr. High 2"                     $0.00                                       $0.00
All users will be charged the $2.65 per 1,000-gallon water usage in addition to their base rate.   Currently, based on an annual usage, users are paying an additional $26 month for water.  Meaning that the new projected user rate for all residential ¾" users will be right around $52 to $53 a month.   This average rate though is dependent upon the usage for each residential unit and will vary based on family size, water needs, and usage.
The Town of Eureka Council will have a special meeting at the conclusion of the public hearing on August 28th, 2018.   At that time, the Council will approve or disapprove of these new rates.  If approved, the new rates will come into effect during the September 2018 billing cycle.
For more information please reach out to our Project Administrator Tracy McIntyre with Rural Economic Designs, LLC at ruraleconomicdesigns@gmail.com and 406.291.1416.