Public Service Announcement 3/27/2020
Governor Bullock has issued a "Shelter in Place" mandate that will go into effect at 12:01 March 28th, 2020.   The Town of Eureka will comply with this order and is asking all citizens in our community to shelter at home.   Essential services as outlined within the Governor's Directive  (read the Directive here), will continue.
Businesses with questions can contact a dedicated state line at 1-800-755-6672 and leave messages 24-hours a day and will receive a prompt response.
Essential Business guidance as referenced within the Directive is found by following this link:   https://www.cisa.gov/publication/guidance-essential-critical-infrastructure-workforce
Stay home unless you are working an essential job, providing a service for someone in need, getting essential supplies and groceries including medical prescriptions, or attending to yours or your family medical needs.  Outdoor-physical exercise is allowed under this Directive but should be done so in small groups and maintaining the social distance of 6 feet apart.  Parties and gatherings of folks of 10 or more are not permitted at this time as per the Directive.
See the full public service Announcement from the Mayor of Eureka released 3/28/2020 here. Eureka PSA 3-28-2020
Public Notice:  3/20/2020
The Town of Eureka is committed to providing essential services to the public while also making the health and safety of our citizen's a priority. After careful consideration of health recommendations, the decision has been made to close the town hall to the public effective Monday, March 23rd. Employees will still be available by phone during regular business hours from 8:00 am to 4:30 pm. Utility payments may still be dropped off in the vestibule drop box at the front of t
he building, which is available 24/7. Payments may also be mailed and credit card payments can be made by phone. Anyone with court business will need to call first. The judge will be available to speak with, by phone, during regular court hours of Thursday's from 8:30 am to 4:00 pm. and Friday's from 8:30 am to 12:00 pm. Fine payments for the court may also be placed in the dropbox in the front vestibule and credit card payments can be made by phone. The phone number for the town hall is 297-2123. The phone number for Public Works (water/sewer) is 297-0529 and their hours are 7:00 am to 3:30 pm. The non-emergency phone number for law enforcement is 297-2121 and in case of an emergency, please dial 911.  The Town will continue to monitor events and will make notification when these restrictions can be lifted. In the meantime, please follow health recommendations, stay safe, and take care of yourselves.
Eureka! You found a great place to Live, Work, and Play.   It is a place that radiates a classic, rural Montana lifestyle.  Eureka centralizes along a two (2) mile stretch of Highway 93, or better known to all of us as Dewey Street and Main Street.  Restaurants and stores are filled with friendly faces and awesome events occur year round.   Keep in touch with Eureka by following our very active Chamber of Commerce.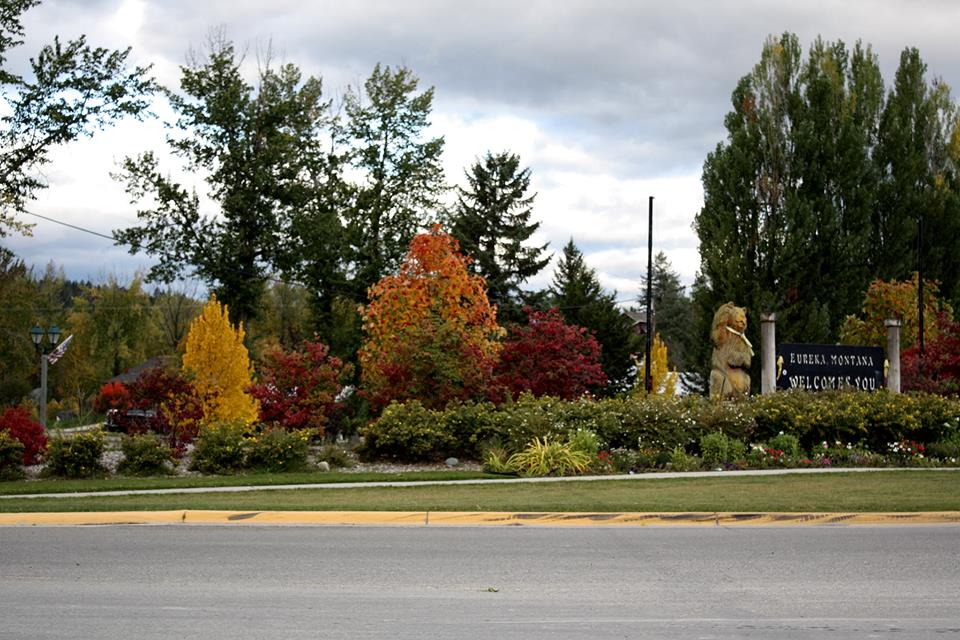 Surrounded by the Kootenai National Forest and on the "backside" of Glacier National Park, Eureka is truly a paradise for those who want to visit and live in an area that has activity all year round.
The day to day operations of Eureka is managed by a team comprised of a Clerk/Treasurer, an Assistant Clerk, and a certified team of experts at Public Works.  There is a Police Department that works out of the Justice Center with a number of other law enforcement agencies, and a Judicial branch with a Town Judge.
The Town Council are volunteers of the community elected by the Community.   To stay in touch with our day to day activities and what is happening in the area follow us on the Town of Eureka Facebook page.
Make sure you visit our other community pages:
Eureka Area Chamber of Commerce
The Chamber has an excellent page dedicated to the events happening in our community.  Make sure to follow them on their facebook page and follow their website's calendar.
Tobacco Valley Industrial District
InterBel Telephone Cooperative